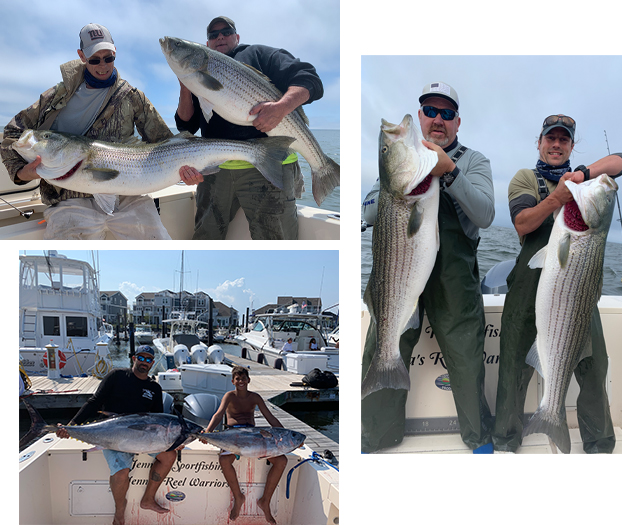 Providing An Awesome Fishing Experience
Come experience New Jersey fishing and fun at its best with Captain Scott on the Jenna P II out of Highlands, NJ.
Quality fishing gear

All bait and tackle provided

U.S. Coast Guard OUPV Licensed Captain

State of the art boat and electronics
What People Say
Captain Scott is a very knowledgeable and experienced fisherman. He has a real talent for getting the fish to bite when others cant seem to make that happen. I have caught the biggest stripers and fluke of my life on his boat. You won't be disappointed out on the Jenna P.

gamebred26

Captain Scott is the man!!! We had a great time and I highly recommend him!

Kamil Arent

I would like thank Captain Scott and his mate Quinn. I caught the biggest striper of my life today. He is the guy to go fishing with he knows what he's doing! If you're going fishing go on this boat! Thank you again Capt. Scott!

Michael Monteverde

Went out fishing with Capt. Scott. Little early in season for Seabass. Although the fish wouldn't cooperate Capt. Scott kept a positive attitude and was persistent. We finished the day with a nice catch of seabass and stripers. Gear is top notch, pleasant crew, highly recommend.

Russ Ruggiero

Knowledgeable Captain, very familiar with the waters and always well informed on where and what to catch. I never met another Captain so ambitious and willing to do what it takes to get a fish on for his customers! Friendly and always happy to help. Highly Recommended! Boat is super fast we were doing over 50 and the kids loved it.

Paul Maynard

Captain Scott couldn't have done more to make our day out fishing phenomenal for everyone on board. He definitely knows the waters and the fish. What a blast it was reeling in the stripers. If you are considering a fishing trip, look no further!

Lisa Wiedeman

Recently went on a daytime Striper trip with Capt. Scott and Red. The trip was a good as it gets. Caught fish up to 30 lbs. Great day!

Brian Kelly

I am so glad I found Captain Scott. He made a short notice trip happen for me when I was in town for work and not expecting the chance to get on a boat for stripers. He worked his tail off to put me on fish when it was looking like they weren't going to cooperate. His determination paid off with a nice fish for myself. His rig is clean, equipment is solid, and knowledge of the water is second to none! I had a great time and will be back for another trip. Heck, I'm probably going to make it an annual trip for myself now that I found Captain Scott.

Thomas Fannie jr.

Went Striper fishing with Capt Scott and his mate Dominick and had a blast. He knows how to catch them and where to find them. We fished live bunkers and trolled a little to find the bass . His boat and gear are top notch and he and his mate are very helpful and fun to fish with.

Brian Hegarty

They are absolutely AWESOME! They always know where the fish are and put you right on them. We had a great day and we got to do a little bit of everything, even on one of the pickiest of days we still caught tons of fish. The captain and his mate are dialed in on the fish! Highly reccommend booking with them ASAP!

Chicksrippinlips Madosky
"I had a blast with Captain Scott on the Jenna P. I caught the biggest fish of my life!"
"I had a blast with Captain Scott on the Jenna P. I caught the biggest fish of my life!"